Carnilove Dog Treats Salmon with Blueberries 200g
Carnilove Crunchy Snack Salmon with Blueberries with fresh meat
Complementary dog food
Package: 200g
Compositionsalmon 50% (dried salmon 35%, fresh salmon 15%), pumpkin 15%, yellow peas 8%, dried apple 5%, carrots 5%, chickpeas 4%, blueberries 4%, chicken fat (preserved with tocopherols) 4%, flaxseed 2%, dried spinach, 2%, linseed oil 1%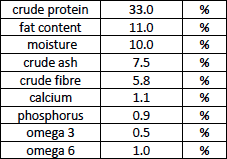 Contains natural antioxidants.
Metabolizable energy: 3 380 kcal/kg

A crunchy snack with fresh meat for the ultimate tasty treat and perfect complement to your dog's regular diet. Serve daily as a reward, for positive motivation training, or as a treat for shared moments during the day. Make sure your canine buddy always has plenty of fresh drinking water.